A garden studio is a space to enjoy the things that interest us outside of work, most commonly we see garden studios being used as home gyms and music studios. Each of these differing uses have additional specific requirements to ensure they function as intended. We offer additional design options for both home gyms and music studios, these focus on the main usage intent for the space.
Here are some of the top design consideration for garden studios.
Internal Height
Additional internal height. As be design bespoke garden rooms increasing internal head height is not an issue. If you enjoy yoga as part of you fitness routine, being able to perform tall stretches is an important factor to be incorporated in your design. We can increase the internal head height on any design, office or room, however this does of course increase the external height meaning there are additional considerations when it comes avoiding the need for a planning application. These considerations we are more than happy to discuss with you, should this be an option of interest.
Floor loading capacity
Increased floor and foundation loading capacity. Home gyms need to accommodates a different set of items than a standard garden office for example. Depending on your workout activities there maybe substantial heavy equipment to consider, or maybe some repetitive impact loading from treadmills and alike. As standard we design our floor structure to accept the same loading conditions as a first floor property by following the structural standard for residential properties in the UK. This provides significant loading capacities suitable for most garden room activities, with a maximum capacity of 150kgs covering every square meter of the floor. For heavy use home gyms we can increase this floor loading capacity to 250kgs covering every square meter. This creates a suitable sub-floor for most gym activities and with the addition of our non-slip rubber impact flooring option, your home gym is complete. We can also fit the rubber impact flooring to just part of a Multi functional garden room.
Music studios sound proofing
To be able to use your new space to its fullest potential most days of the week and hours of the day, a key consideration has to be whether your neighbours taste in music is the same as yours! Inside your music studio you want the freedom to immerse your self in the sounds that you can create, however, it is important that this sound is contained or absorbed so that noise pollution to the outside is kept to a minimum. For this we can offer options that provide noise absorption and noise blocking features, these come in the form of acoustic insulation, sound bloc plasterboard and acoustic glazing. As a complete package these three items can reduce the sound transfer by an additional 40-45 db ensuring you get maximum enjoyment from your new space, while also staying on the neighbours Christmas card list!
These are just some of the options we have available for garden studios.
More Uses
Garden room uses, MULTI-FUNCTIONAL, offices, music studios, gyms & More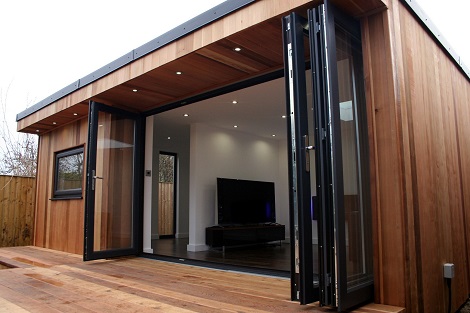 A garden room can be a multi function space and provide value to all of the family. With a multi-functional garden room often every member of the family has their own ideas on how to best use the new space, as a result these spaces are constructed larger to accommodate all the planned activities. By discussing your planned internal usage beforehand, we can offer advice on features and layouts that will provide benefits to the whole family and help you to get maximum the value from your investment.
All of our garden offices achieve class leading levels of thermal performance and feature their own heating so are usable 365 days a year. However, a garden office needs to be more than just a insulated and heated space, it needs to be both welcoming and motivating. By their very nature, detached garden offices provide the ideal separation from home distractions and by adding some of our bespoke features, you can create you ideal, personal working environment.
Located in the Cheshire Town of Congleton, apodo designs supply and install insulated, bespoke, contemporary garden rooms, offices and studios throughout mainland UK. Our location in the Northwest of England provides the perfect base to serve the local towns of Alderley Edge, Crewe, Macclesfield, Northwich, Wilmslow, Knutsford, Prestbury and Holmes Chapel to name a few and we are within touching distance of Manchester and Liverpool to the north.