FROM OUR BASE IN CHESHIRE WE INSTALL INSULATED GARDEN ROOMS,
GARDEN OFFICES AND GARDEN STUDIOS THROUGHOUT THE UK.

Located in the Cheshire Town of Congleton, apodo designs supply and install insulated, bespoke, contemporary garden rooms, offices and studios throughout mainland UK. Our location in the Northwest of England provides the perfect base to serve the local towns of Alderley Edge, Crewe, Macclesfield, Northwich, Wilmslow, Knutsford, Prestbury and Holmes Chapel to name a few and we are within touching distance of Manchester and Liverpool to the north, our exact location is pinned on the map below.
The chances are you if are looking to use a local company for your garden room, office or studio install you understand the additional benefits you gain from using a local Cheshire garden room supplier. In most cases as we experience reduced transportation and delivery costs and an overall lower cost of doing business for a local install, we are able to pass these savings onto you, this means our pricing can be our most competitive for local projects. It is even easier to provide our excellent levels of customer service when you are just on our door step, any question of queries you may have, we are never more than a short drive away and we of course we offer free site surveys and design consultations throughout Cheshire.
Why we are proud to be a Cheshire garden room installer
Our county is a unique mix of both wide open and also metropolitan spaces offering the best of both outdoor and city like living. We have an eclectic mix of new comers and many generation families all enjoying Cheshire's rich history and the lifestyles it can offer. Venture east towards the Peak District and you will find wild moorland and the farming communities that once supplied milk to produce our world famous cheese. Some of those farming communities still exists and looking down on the old industrial towns of Macclesfield home of the bygone silk industry. Move north north towards the golden triangle an area with some of the most expensive properties outside of London and maybe you will spot a premiership footballer or international rock star of note. Continue north towards Warrington our largest town and home to the Warrington wolves, who are one of the original twenty-two clubs that formed the Northern Rugby Football Union. Head west past the landmark Jodrell bank observatory, though the pretty villages and old English pubs on towards Chester, where we have one of the post paid for attractions outside of side of London, Chester Zoo. It is this history and where it has led us today and the people that make us proud to be a Cheshire garden room installer .
If you have found this page by chance and you have never been to Cheshire, then I advise visiting the Visit Cheshire or Cheshire Life websites to see as a large community what we have to offer.
Why an insulated garden office, room or studio make senses
Throughout the UK over the past 10 or so years we have seen an explosion in the popularity of garden rooms Cheshire is no different. But why is this.
Our modern day working and home lives often require the need for more space and the way we go about our day to day work is changing, with more and more of the population working from home and some considering the possibilities of starting up their own business. Finding a space which is suitable for these activities is sometimes difficult to find in our homes. He all have differing hobbies and interests that keep us entertained outside of our working lives, whether your interest are in exercise, music, films or one of the other arts, finding a space to enjoy our interest to their fullest, is not always easy within the confines of our houses.
Finding that ideal space to meet these lifestyle needs can have a really positive effect on your lifestyle. Working from home in a productive, warm and comfortable space provides the added benefits of reduced travel times, reduced fuel costs and an improved work life balance. Having the space to fully enjoy our hobbies and interest allow us to relax and be creative in the way that we want to be outside of work.
Our garden rooms are a perfect solution to these real modern days problems. As a cost effective solution to a home extension they have the added benefit of being detached from your home. This separation from hustle and bustle of modern life, adds to the goal of creating a productive works space, or as a secluded area for you where your hobbies can flourish. All our garden rooms feature residential levels of thermal performance to guard against our northern winters and are finished in the same way as a modern home. With double glazed windows and full electrics, you will have the warm and comfortable space you need. Multi functional, office, music studio or gym, there are many practical uses.
Our custom designed garden rooms have provided this solution to clients across the UK including, in our home county of Cheshire, providing the exact space they wanted and positive impact on their lifestyles.
Uses
Garden room uses, MULTI-FUNCTIONAL, offices, music studios, gyms & More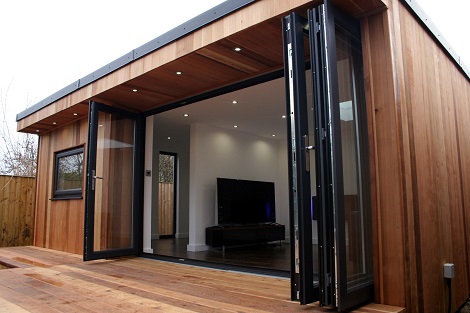 A garden room can be a multi function space and provide value to the whole family. With a multi-functional garden room often every family member has their own ideas on how to best use the new space, as a result these spaces are constructed larger to accommodate all the planned activities. By discussing your planned internal usage beforehand, we can offer advice on features and layouts that will provide benefits to the whole family and help you to get maximum the value from your investment.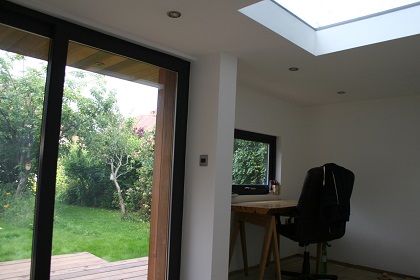 All of our garden offices achieve class leading levels of thermal performance and feature their own heating so are usable 365 days a year. However, a garden office needs to be more than just a insulated and heated space, it needs to be both welcoming and motivating. By their very nature, detached garden offices provide the ideal separation from home distractions and by adding some of our bespoke features, you can create you ideal, personal working environment.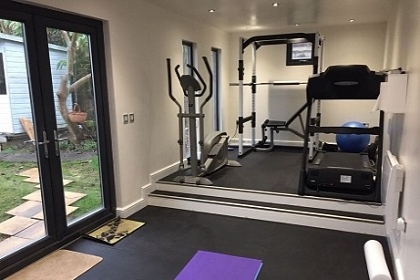 A garden studio is a space to enjoy the things that interest us outside of work, most commonly we see garden studios being used as home gyms and music studios. Each of these differing uses have additional specific requirements to ensure they function as intended. We offer additional design options for both home gyms and music studios, these focus on the main usage intent for the space.