Cladding, defining the overall look of your new garden room.
Cladding is probably one of the areas where you can make the most visual impact for your contemporary garden room together with your window and door choice and other features link decking and skylights. Here you can see the materials, style and finished we can use on any design layout.
A desirable, durable softwood with contrasting reddish, light and dark tones. Cedar contains natural oils that protect against decay hence why it is a popular option for contemporary garden rooms. Our supply is imported from sustainable Canadian forests.
Cedar is naturally durable with a +25 year plus life expectancy and from a weather protection point of view, it offers a maintenance-free solution.
The natural colour of Cedar is what attracts most clients to this material. However, it is worth noting that over time the sun's UV rays bleach cedar to a silvery grey colour. For some clients this is desirable, but for most keeping the original colours and tones is a priority. As an external finish option, we can apply two coats of a clear pigment-free UV protector, this reduces the effects of the UV bleaching process and provides longevity to the original visual appearance.
Cedar is available in different grades. The grades relate to the number of visible knots in the boards. "Clear" grades are the most expensive with limited knots; "Number 2 Grades" being middle of the ground and knotty grades being the least expensive.
Known for its high density and strength derived from the slow-growing process it undertakes as a result of its extremely cold growing conditions. Visually the gain is very tight with minimal colour contrast between the boards and a golden yellow finish. Imported from sustainable Siberian forest.
The density of the Larch is what provides its excellent weather protection, weighing nearly twice as much per volume as Cedar. Again with a +25 year life expectancy, it can offer a maintenance free solution.
Larch is also susceptible to bleaching by the suns UV rays. Over time Larch will fade to a silverish grey colour. As an external finish option, we can apply two coats of a clear pigment-free UV protector, this reduces the effects of the UV bleaching process and provides longevity to the original visual appearance.
Larch is a more cost-effective material than Cedar and lighter in colour. This makes it a good option for a pigmented exterior stain for a dramatic and personally colour choice. Pigmented stains preserve the visible grain pattern in the wood, but provide a block colour to the exterior finish. A wide selection of colours are available, you can see these colour options below.
While cedar and larch gain there excellent weather protecting from their respective natural oils and density, Thermowood undergoes a treatment process to transforming it into a long-lasting, maintenance-free cladding solution.
Thermowood is a heat & steam treated pine, imported from Finnish sustainable forests. It offers excellent weather protection when compared to traditional methods of treating pine softwoods. During the heat treatment, chemical and structural changes occur within the timber which alters and improves some of its characteristics. The resulting product is an altogether more durable and stable timber and an ideal garden room cladding material with a maintenance-free, +20 year life expectancy.
Dark brown in colour with minimal tone variation between boards, Thermowood works well for a more traditional look as it is knotty by nature. Thermowood is also susceptible to bleaching by the suns UV rays, over time it will fade to a silverish grey colour. As an external finish option, we can apply two coats of a clear pigment-free UV protector, this reduces the effects of the UV bleaching process and provides longevity to the original dark brown appearance. Pricing wise it is slightly less expensive than Siberian Larch.
Maintenance Free Composite
Maintenance free composite materials offer excellent weather protection and consistent colour throughout its +20year life expectancy. It is available in both bolder contemporary and traditional colours, with a natural woodgrain pattern.
It is manufactured from cedar and maple fibres combined with resin and wax and finished with a five-layer acrylic finish. Chosen by clients for its colour consistency, stability and the range of colour options.
Horizontal Lap board profiles can offer a traditional "New England" look with vertical tongue and groove profiles used as a suitable alternative for both contemporary and traditional timber finishes. Matching powder coated window and door trims finish the maintenance free exterior.
Additional Cladding Options
Provides increased protection to all timber against bleaching to silvery grey caused by the sun's UV rays. As an additional benefit, this clear pigment-free oil also brings out the natural colours of the wood and provides greater lustre to the exterior finish. Two coats of clear oil is an option for any exterior timber cladding.
Exterior Translucent Colours
Available for all timber options to add colour across the whole structure, or as accent details to vertical areas, around windows and door and also decking. These stains are translucent oils meaning they preserve the visible grain pattern of the timber and at the same time provide an overall colour to the exterior and produce matching or contrasting combinations with the windows and doors.
A selection of profiles and widths are available, each can be used to create distinctive looks and styles, matching to your personal preferences or your surrounding existing buildings. The chosen profile makes no different to the material cost. However, wider boards are a more cost-effective solution, as the install process is generally quicker.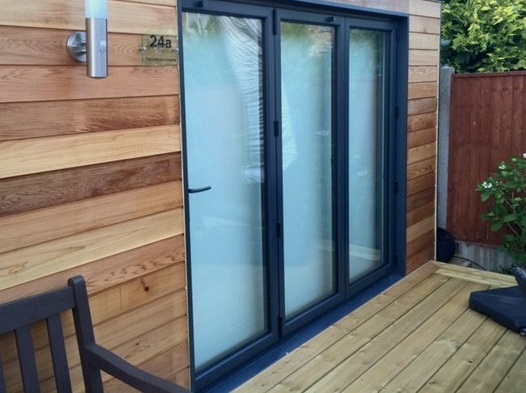 Horizontal Or Vertical Install
Most profiles can be installed horizontally or vertically and it is often a choice based on personal visual preference. However, vertical cladding is more suited to sites with uneven ground as it is more straight forward to follow the ground contours. Depending on the building size, horizontal cladding may also require vertical joints due to the available board length, so horizontal cladding is best suited to smaller building on flat ground.
More Information
SOME OF THE DETAILS FEATURED IN OUR CONTEMPORARY GARDEN ROOM DESIGNS
Windows & doors are available in a range of styles and widths to suit differing usage needs. Sliding patio, French and Bi-fold option in widths up to 4.2 meters. Choose from contemporary grey and black frame colours or more traditional white or brown, in either UPVC or aluminium. All windows & doors are A-rated double glazed units with police approved security levels.
Contemporary garden rooms
A contemporary garden room, office or studio follows modern ideas in style and design to create aesthetically pleasing garden rooms with functional layouts. We enjoy looking at aesthetically pleasing objects as they positively impact our sense and provide pleasure by focusing on more that just the functional requirements and instead also add a layer of visual excitement and stimulation that we welcome into our lives.
Skylights are a great way to flood the inside of your new space with natural light and a popular option. Double glazed, argon filled, roof lights with self-cleaning glass, fully compliment within the 2.5m height limit and available on all garden room designs in different sizes.
Adding a deck area to your garden room provides an additional new space to enjoy during the summer months. We have a selection of decking materials available to match your cladding choice and budget. All flat profile decking is inclusive of an anti-slip treatment and all decking packages are inclusive of the additional matching cladding required to complete the sides of your decking area and the required foundations.