CONTEMPORARY GARDEN ROOMS, GARDEN OFFICES AND GARDEN STUDIOS
CONTEMPORARY DESIGNS AND FEATURES
A contemporary garden room, office or studio follows modern ideas in style and design to create aesthetically pleasing garden rooms with functional layouts. We enjoy looking at aesthetically pleasing objects as they positively impact our sense and provide pleasure by focusing on more that just the functional requirements and instead also add a layer of visual excitement and stimulation that we welcome into our lives.
Adding an additional contemporary garden space to your property can have several positive impacts on many family's lifestyles. Working from home in an attractive, warm and comfortable space provides the added benefits of reduced travel times, reduced fuel costs and an improved work life balance. Having space to fully enjoy our hobbies and interests in a stimulation environment, allow us to relax and also be creative in the way that we want to be outside of our work. Growing families benefit from both extra privacy and also more space to enjoy activities together.
We offer several design features and options that when combined together can create your very own personal contemporary garden room, featuring class leading levels of insulation and thermal performance all delivered through a completely bespoke design service.
Below are just some of the contemporary features we can include in your garden room design.
Aluminium bi-folding doors
Bi-folding doors provide an attractive addition to any garden room. Their main advantage over other door styles is the ability to open up the whole face of a building, joining the internal and outside spaces together. When combined with an external decking area a one fluid space is created ideal for entertaining in the summer months. We offer Bi folding doors in UPVC and aluminium profiles, aluminium has the advantage of thinner profiles and larger glazing sections, contributing to more natural daylight entering the internal space
Cedar cladding
Cedar has grown in popularity over the last decade as a modern architectural choice for the main weather protection layer for small and large builds due to its long-life expectancy and excellent natural resistance to rot. However, the main reason behind its growth in popularity is due to its attractive reddish tones. A popular contemporary use of this material is in the form of vertical tongue and groove profiles of both wide and narrow boards for wall facades and also in the form of open rainscreen cladding systems.
Skylights
A fixed glazed skylight is an attractive design feature, visually pleasing to look, but also functionally they flood internal spaces with natural light for many hours of the day. Double glazed, argon filled and complete with self-cleaning class and available in sizes up to 1.2m x 1.2m square.
Decking
Decking creates additional usable space within you garden, by adding a decked area to a garden room it can also help set the building into its new surroundings. We have a selection of decking materials to compliment or contrast with all of our external cladding options, from chunky Cedar to maintenance free composite. Decking can also be used to add a walkway style approach, providing a mud free journey from your home to your new contemporary garden room.
A contemporary garden room install can also be part of a large landscaping project around your property. In this instance we always advise the installation of the garden room first thus avoiding any disturbance to any planing or freshly laid lawns. If you are considering landscaping we can recommend Houzz and Ideal Home for inspirational garden ideas.
About Us
what we do
We are a UK wide garden building supplier, specialising in the design and install of bespoke, contemporary, insulated garden rooms. We use high quality residential specification building materials, luxury finishes and modern modular construction techniques, to install small garden rooms to large garden rooms, up and down mainland UK at clients homes. Your very own insulated garden room could be used as an extra living space, office, studio, workshop, gym or for many other lifestyle needs.
Garden Offices, Rooms & Studios
our products
More Information
some of the details FEATURED IN OUR contemporary garden room designs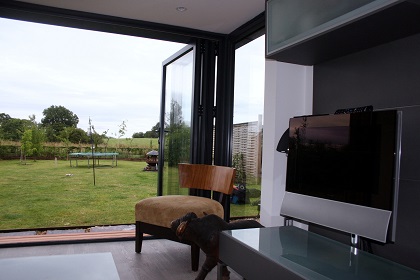 Windows & doors are available in a range of styles and widths to suit differing usage needs. Sliding patio, French and Bi-fold option in widths up to 4.2 meters. Choose from contemporary grey and black frame colours or more traditional white or brown, in either UPVC or aluminium. All windows & doors are A-rated double glazed units with police approved security levels.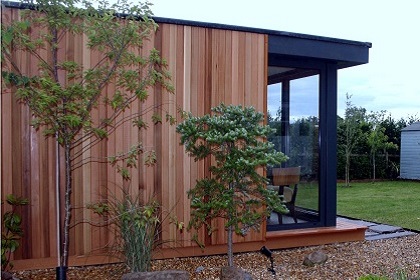 Cladding is probably one of the areas where you can make the most visual impact for your contemporary garden room. Any layout of garden room can be externally finish in any one of our available cladding materials, popular natural timber choices are cedar, larch and thermwood and also composite options for a completely maintenance free finish. Cladding boards can be installed vertically or horizontally depending on your personal preference and can be specified in different board widths and cladding profiles.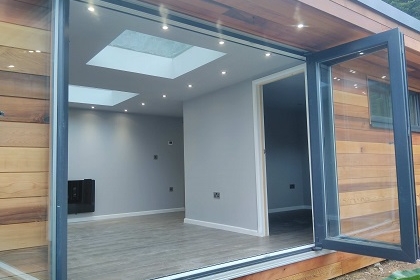 Skylights are a great way to flood the inside of your new space with natural light and a popular option. Double glazed, argon filled, roof lights with self-cleaning glass, fully compliment within the 2.5m height limit and available on all garden room designs in different sizes.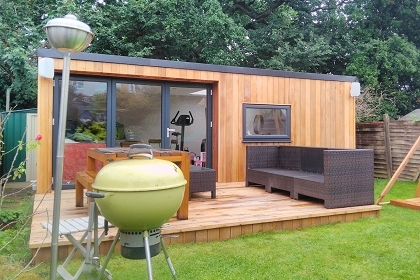 Adding a deck area to your garden room provides an additional new space to enjoy during the summer months. We have a selection of decking materials available to match your cladding choice and budget. All flat profile decking is inclusive of an anti-slip treatment and all decking packages are inclusive of the additional matching cladding required to complete the sides of your decking area and the required foundations.