INSULATED GARDEN ROOMS, GARDEN OFFICES AND GARDEN STUDIOS
If you are considering an insulated garden room, office or studio, maybe to enjoy your favourite hobby or provide a productive space for an office, then the chances are you will need a space that is usable 365 days a year. In the depths of winter and the heights of summer this new space needs to provide a comfortable environment throughout the year, independent of the weather and also without excessively increasing your heating bills.
An additional usable bespoke space can have several positive impacts on many family's lifestyles. Working from home in a productive, warm and comfortable space provides the added benefits of reduced travel times, reduced fuel costs and an improved work life balance. Having space to fully enjoy our hobbies and interests, allow us to relax and also be creative in the way that we want to be outside of our work. Growing families benefit from both extra privacy and also more space to enjoy activities together.
An insulated garden room with a specification focusing on preventing the loss of heat and additionally with its own heating source is an ideal solution, however there are many "insulated" garden rooms available on the market, each with varying insulation levels that impact how usable the space will be throughout the year and each with its own impact on your households energy bills.
In the case of insulation it is the type and the thickness of the material used that has the biggest impact on usability and energy costs .
We offer thicker, higher quality, more thermally efficient insulation than the majority of all UK garden building suppliers.
As we offer class leading levels of thermal performance, we can comfortably discuss and disclose our insulated building specifications and we actively look to inform you of the differences in specifications to allow you to make an informed decision. Knowing the details will provide you with the confidence needed to ensure your new garden room will be usable 365 days a year without excessively increasing your heating bills.
Overview
Most materials used in garden room construction provide some level of insulation and contribute to the thermal performance of the internal space, from the external cladding thickness to the internal plasterboard. However, these are all minimum contributors to the thermal performance when compared the insulation layer.

Insulation can be made from many different materials, each offering different levels of thermal performance. Common insulation materials used in garden room construction are mineral wool, polystyrene, and polyurethane.

All of our garden rooms feature modern residential specification materials such as structural insulated panels (SIPs). SIPs are known for their strength and thermal performance and are constructed from polyurethane, which per mm of thickness used is one of the most effective materials available.
The industry standard to compare thermal performance is to look at the material U – Value for a given thickness of material, the lower the value, the better the material and therefore the building insulates. As standard we use 100mm of Polyurethane within the typical 192mm total wall thickness, you can see how it compares to the other commonly used materials below, remember lower is better:
100mm Polyurethane U value = 0.020 W/m2K

100mm Polystyrene U value = 0.032 W/m2K

100mm Mineral Wool U value = 0.038 W/m2K



As a summary, you would need a 150mm thickness of polystyrene and a 180mm thickness of mineral wool to achieve the same performance as our standard 100mm Polyurethane offering. The reality is most lower specification garden rooms that use mineral wool or polystyrene, commonly use a thickness of 100mm, this is to fit with the size of timber used in the wall construction. This approach reduces the energy efficiency performance of the overall building and without excessively increasing energy cost, impacts usability of the space throughout the year.
Not all insulation is equal
We use the best insulating materials available to ensure a warm and comfortable environment in the winter months, with low ongoing energy costs and a cool enjoyable environment in the summer. Our structures are among the most thermally advanced available and inline with the recommended levels for newly build homes.
Additional resources:

See how one of our garden buildings performs in real world tests: Energy efficiency performance.
More on SIPS from the Structural Insulated Panel Association: SIPA.
More on material types from the UK renewable energy hub: Renewable energy hub.
About Us
what we do
We are a UK wide garden building supplier, specialising in the design and install of bespoke, contemporary, insulated garden rooms. We use high quality residential specification building materials, luxury finishes and modern modular construction techniques, to install small garden rooms to large garden rooms, up and down mainland UK at clients homes. Your very own insulated garden room could be used as an extra living space, office, studio, workshop, gym or for many other lifestyle needs.
Garden Offices, Rooms & Studios
our products
Contemporary garden rooms…
More Information
Details that make our garden buildings CLASS LEADING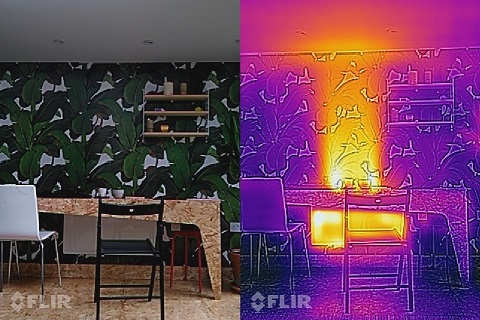 U values are how we measure and compare the insulation performance of materials. The U values are figures defined by laboratory tests carried out by the insulation manufacturers and then published. Knowing the U values of a range of insulation materials helps us to understand which materials will work best to keep our internal spaces warm in the winter and cooler in the summer. When it comes to garden rooms, knowing the U values of the insulation used and the overall u values of the floor, wall and roof constructions, which can be calculated, allows customers to compare different garden buildings to determine which will perform the best thermally.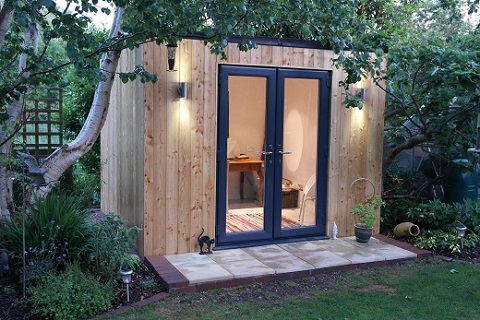 Insulation roll, insulation board, fiberglass insulation, Celotex, Kingspan! The topic of insulation materials and the types of insulation available, can sometimes leave a level of confusion, which material is best and what thickness do I need? If you have every wandered down the insulation aisle at b&q or wicks, glaring at the 4 x 8 sheets and shrink-wrapped rolls, you will know what I mean. Here we discuss the different types of insulation used by most garden room suppliers and the pros and cos of each. Remember, not all insulation is equal.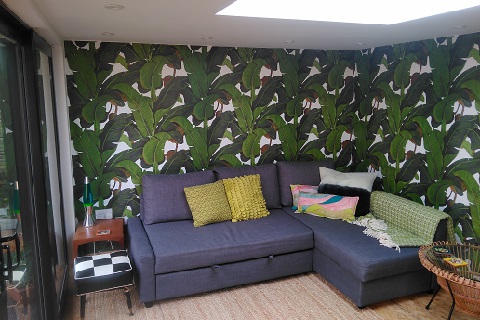 In most cases insulation type and thickness are key factors to consider when choosing a garden room supplier, as these factors contribute to the overall energy efficiency performance of the garden building. With many different material types, claims on energy efficiency performance and the possibly confusing world of u-values, we decided to return to one of our completed garden rooms, to find out how one of our previous builds performs in a real word environment.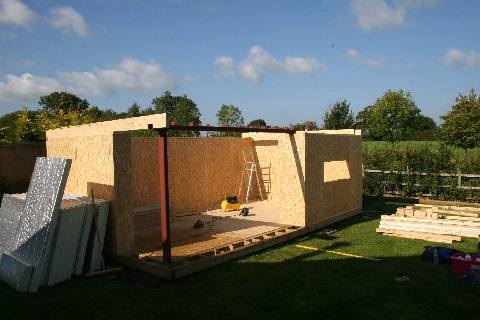 We sometimes hear comments comparing a modern insulated garden room to no more than an insulated garden shed, for our insulated garden buildings that really isn't the case. We don't supply the cheap garden rooms that you can find made from shed like materials, instead we use residential specification materials that you would find in the build specification of any newly build home. This includes the insulation, main structure, windows and doors, roof weather proofing and external cladding among others. This results in quality buildings, that have a solid feel and will undoubtedly last the test of time. This approach does mean we are not the cheapest garden building supplier, however we do offer the most value.